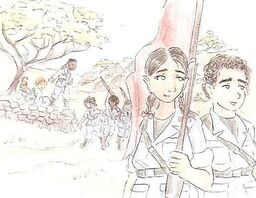 A pioneer movementis an organization for children operated by a communist party. Typically children enter into the organization in elementary school and continue until adolescence. The adolescents then typically joined Komsomol or a similar organization. Prior to the 1990s there was a wide cooperation between pioneer and similar movements of about 30 countries, coordinated by the international organization, International Committee of Children's and Adolescents' Movements (French: Comité international des mouvements d'enfants et d'adolescents, CIMEA), founded in 1958, with headquarters in Budapest.
The Young Pioneer Organization of the Socialist Republic of Carthage
Edit
Following the revolution of 1968, and the successful establishment of the Socialist Republic of Carthage, scouting organizations were reorganized by the People's Socialist Party into the Young Pioneer Organization of the SRC.Its main grouping of members until 1981 was the "Young Pioneer detachment," which then typically consisted of children belonging to the same secondary school. From 1981 to October 1997 (when the organization was broken up) the "detachment" was made up of children belonging to the same class within a school, while a school was referred to as a "Young Pioneer group."The main goals and duties of Young Pioneers and requirements of membership were specified by the Regulations of the Young Pioneer organization of the SRC; by the Solemn Promise (given by each Young Pioneer joining the organization); by the Rules of the Young Pioneers; and by the Young Pioneer Motto, For Peace and Socialism, we are ready, Always Ready! There were two major revisions of them: in 1980 and 1986. Although membership was theoretically optional, almost all the children in the SRC belonged to the organization; it was a natural part of growing up.
Exceptional Pioneers, selected for their grades and leadership were sent to gatherings at the famous Pioneer Camp at "Artek" located in Crimea, Ukraine.
The Young Pioneer Organization of the Autonomous Socialist Republic of Punic Tambayé
Edit
With the establishment of the ASRPT by Carthage on the island of Tambayé, the PSP was granted a new lease on life. Many aspects of life in the SRC were restored by the party, including the Pioneers. Little was different about this new Pioneer Movement, except for a new emphasis on military training for older group members.